Internal quality assurance in the field of study and teaching takes place after successful system accreditation by Leibniz University Hannover as part of the "Leibniz Quality in Teaching" programme (LQL-Programme).
The LQL-Programme rests on a many-layered concept which develops different components of existing internal quality assurance in the field of monitoring and evaluation and, through the LQL-Review, extends them by a third level of quality assurance, which supersedes the previous programme accreditation.
CENTRAL COMPONENTS OF INTERNAL QUALITY ASSURANCE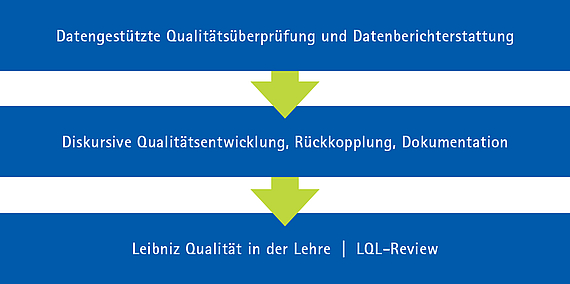 Data-supported quality monitoring
Leibniz University Hannover employs a range of different data-supported instruments and measures in the field of evaluation and monitoring in order to gain information on the quality of study and teaching and obtain indications for further development. This range of instruments extends – according to the orientation of the strategic quality goals within the framework of the academic cycle – across the entire "student life cycle" with the study-phase-specific requirements and problems present in each case.
The instruments in the field of monitoring and evaluation include:
The data that is gained from these instruments becomes part of the processes of discursive quality development and is also an object of consideration in the course of the LQL-Review, which is carried out for existing courses of study at six-year intervals.
Discursive quality development and feedback
The quality strategy of Leibniz University Hannover relies on a discursive, communicative approach with the participation of various actors. Results of data-supported quality monitoring become part of the consultation processes. The process of discursive quality development takes place at both central and decentralised levels. Students are closely involved in these processes.
The following are among the fora in which advice is given on the quality of study and teaching: